Regular price
$350.00 USD
Regular price
Sale price
$350.00 USD
Unit price
per
Sale
Sold out
The Battery Adapter for SmallHD allows a Gold Mount plate or V-Mount plate to be installed on Cine 5, 5" Focus Bolt, 7" Focus, or 7" Focus Bolt monitors without the need for cables.
The battery adapter attaches to 1/4-20 holes on the monitor while maintaining compatibility with SmallHD's monitor handles. The adapter weighs 4.4 oz (~125 grams), and fits within the footprint of the monitor. This adapter is only compatible with the Cine 5, or Bolt series of 5" Focus monitors, not the original 5" Focus or Focus OLED series. Both 7" Focus and Focus Bolt Series are compatible.
The battery plate provides two unregulated P-Tap Outputs. The regulated monitor power output features the following protection circuits: reverse polarity, short-circuit, overcurrent, thermal shutdown (activates at 165°C), under voltage lockout, and soft-start.
*Batteries not included*
All Rencher Industries products that use printed parts carry a 5-year warranty on the printed material. If your printed part warps, cracks, or fails for any reason, we will replace the defective printed part at no cost.
Materials

Printed carbon fiber-nylon composite
Genuine Bebob Micro V/Gold Mount
Injection-molded ABS battery eliminator
Dimensions

Cine 5: 3.38" x 2.98" x 1.23" (8.6 cm x 7.6 cm x 3.1 cm)
Focus 5: 5.6" x 2.86" x 1.28" (14.1 cm x 7.3 cm x 3.3 cm)
Focus 7: 3.24" x 3.98" x 1.33" (8.2 cm x 10.1 cm x 3.4 cm)
Shipping & Returns

Insurance included
72 Inspection window
Share
View full details
Customer Reviews
09/07/2021
Dallas S.

United States
Brilliant solution
This solved my issue of wanting to scale up my director's monitor to bigger jobs with gold mounts while also using BP for my own projects. Great work!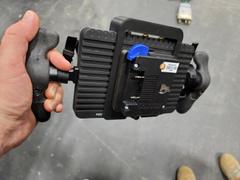 08/11/2020
Zak N.

United States
Fabulous Design! However, you need to purchase longer side screws
I have used this device for a week now every day and have been perfectly content with it as a director's monitor adapter for my SmallHD FOCUS Sidekick. The most compact handheld director's monitor I've ever seen! The only downside I've experienced so far: for of the handheld application, you need to purchase longer hex screws than the ones that came with your SmallHD monitor. This is because the screws that come with the monitor are just long enough to fit into the side of the monitor, which becomes displaced when you add this battery adapter to the monitor. The displacement of the screws by this monitor is just thick enough to prevent the monitor screws from successfully ******** into the sides!
12/18/2020
Rencher Industries
Thank you for your feedback. We have started providing a second set of longer screws for use with the SmallHD handles because of your feedback!
07/23/2020
Matthew P.

United States
2 bolts short of greatness
Not bad. Works as expected, although for the price I would imagine it should come with the proper bolts. The stock small HD bolts aren't long to have enough grab. First time I picked it up it fell apart. Bummer.
12/18/2020
Rencher Industries
Thanks for your feedback. We now supply a second set of screws that are longer for use with the SmallHD handles.