Regular price
$750.00 USD
Regular price
$950.00 USD
Sale price
$750.00 USD
Unit price
per
Sale
Sold out
The LockON Battery Booster adapts standard 14.4 V Gold Mount and V-Mount batteries for use on 24 V Film cameras. The unit mounts to the camera via a customized 16x9 Cine Lock with an Arri pinlock anti-twist mechanism (included).
Features include:
Supplies 6.5 A (150 W) / 8.3 A (200 W) @ 24 V
9-36 V wide input range
Mounts to Arri 3/18-16 pinlock via customized Cine Lock
Safety features: undervoltage lockout (turn on @ 8.8 V, off @ 8 V), input surge (50 VDC for 100 ms), overvoltage protection (115-140%), short circuit protection, thermal shutdown, current limit (110-140% nominal output)
88% efficiency
*Batteries not included*

All Rencher Industries products that use printed parts carry a 5-year warranty on the printed material. If your printed part warps, cracks, or fails for any reason, we will replace the defective printed part at no cost.
Materials

Carbon Fiber-Nylon composite enclosure
Genuine Bebob Micro battery plate
Genuine Neutrik connector
Customized genuine 16x9 Cine Lock mount
Dimensions

4 x 2.6 x 2 in
101 x 66 x 48 mm
Shipping & Returns

Insurance included
72 Inspection window
Share
View full details
Customer Reviews
03/29/2021
Satsuki M.

United States
Lock-On Battery Booster beta
I like the small size and weight of the unit. It powered my 24v Moviecam SL fine with my 28.8v BlockBattery 2F1 batteries. I have not tried it yet with my 14.4v batteries. I think the mounting bracket could be improved for more rigidity, as there is some play with the current Cinelock system. Perhaps you could add a few more mounting bracket options that use more of the existing screw holes and have a larger surface contact area with the Battery Booster. Also, it would be nice if the d-taps were 12v regulated, even if you had to make the device a little larger. When used with 28.8v batteries, I measured the voltage of the fully charged battery at 30.5v which exceeds the input limits of many common accessories. With 14.4v batteries, this is not an issue. I have ended up labeling my BB d-taps with warning labels.
09/24/2020
Eric I.

United States
Amazing Solution for a Unique Problem
Absolutely amazing product! I was unable to re-cell my ARRI 235 OBB-1 batteries due to them being discontinued for many years. However, I still wanted a camera mounted battery system. Alan and I went back and forth on designing the 14v to 24v booster for a couple weeks. Alan engineered and produced a fantastic solution for a modern battery system for film cameras. I can honestly say this was well worth the time and investment. The booster arrived and I could not wait to test it out on my 235 camera. I paired the adapter with some Anton Bauer HC Dionic batteries and can confidently say my camera can run from 1fps all the way up to 60fps off of the battery booster, efficiently. It was such a phenomenal experience from the very start receiving the first drawing, all the way to the final product delivery. If you need a camera mounted battery system for your ARRI, Moviecam, Aaton, or other 24v film cameras, this is the solution for you! PS: the adapter utilizes a 16x9inc Cinelock which mounts to the side of the camera's 2 pin accessory mount.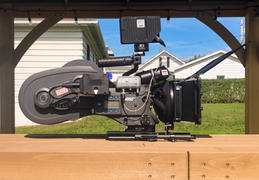 06/02/2020
Kevin S.

United States
Amazing device
However I don't like the single screw adapter. Two at least would be idea. Internal thread of the housing would be great. The single screw allows the unit to slide with the heavy battery attached.