Regular price
$160.00 USD
Regular price
Sale price
$160.00 USD
Unit price
per
Sale
Sold out
The MultiTap Breakout provides four genuine female Anton/Bauer PowerTap outputs (also called P-Tap or D-Tap) from a standard 2-pin Lemo or USB-CPD input jack.
The MultiTap is housed in a printed carbon fiber-nylon composite, which is super strong and extremely lightweight. The housing measures 2.6" x 1.8" x 1" (65mm x 45.5mm x 25mm) and weighs less than 1.6 oz (45 grams), fully assembled. The MultiTap also features a built-in mounting bracket for mounting to 1/4-20 threaded holes.
MultiTap comes in five variants:
4x unregulated P-Tap outputs: use this for 10-17V power sources
2x 12V, 5A

(shared) 

P-Tap Outputs: Works well with most accessories and has a lower input limit of 13.3V as compared to the 10A version
4x 12V, 10A

(shared) 

P-Tap Outputs: best for high power accessories

setups from 24V sources like Sony Venice, Arri LF, Gimbals, film cameras, etc.

USB-C Power Delivery to 2x 15V, 3A (shared) P-Tap Outputs: Requests 15V @ 3A from compatible USB-C PD sources. If your source does not support 15V, the next highest supported voltage is requested. Non-PD sources will default to 5V @ 0.5A.
The 12V regulated MultiTap Breakout variants provide genuine female Anton/Bauer PowerTap jacks (also called P-Tap or D-Tap), which can be powered from 14.5-40V (10A version), 13.3-40V (5A version), or 12.9-40V (2A version). This regulated version of our MultiTap Breakout is a great compliment to camera systems running from 24V sources like the new Alexa LF.
The power input connector is a standard 2-pin Lemo jack (0B.302, Pin-1 GND); this allows the use of standard 2-pin Lemo cables meant for Preston, Teradek, and Arri as the power input. This product does not ship with an input cable, but we do have custom and stocked cable to choose from.
All printed Rencher Industries parts carry a 5-year warranty on the printed material. If your printed part warps, cracks, or fails for any reason, we will replace the defective printed part at no cost.
Materials

Printed carbon fiber-nylon composite
Genuine Lemo connectors
Genuine Anton Bauer P-Tap connectors
Dimensions

2.6 x 1.8 x 1 in
65 x 45.5 x 25 mm
Shipping & Returns

Insurance included
72 Inspection window
Share
View full details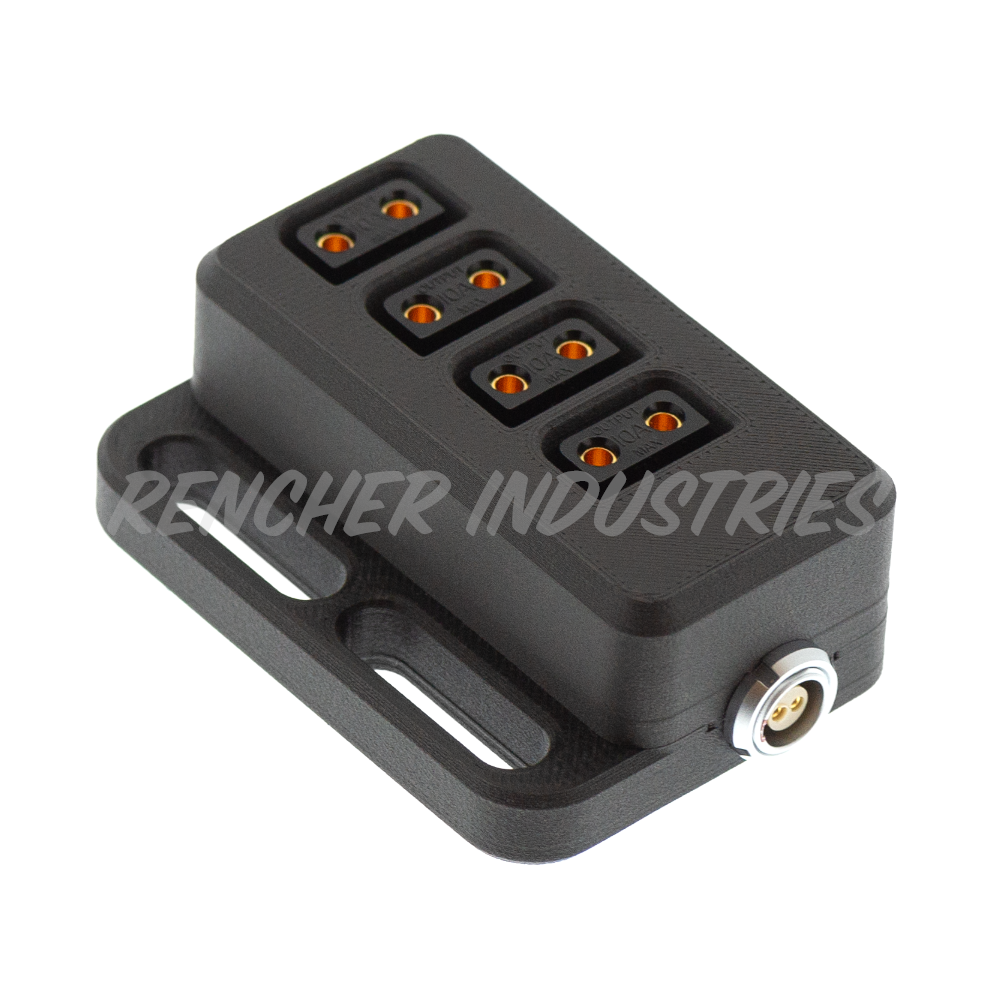 Customer Reviews
01/03/2020
Zach W.

United States
Works as intended!
Only gripe about this that keeps it from getting a 5 star review is the 3d printed plastic is not super strong when bolting to cages or whatever you bolt to. The bolt with washer digs into the plastic and doesn't seem it will last over the long term. Wish list would be stronger material and maybe a tad shorter, I know you cant have it all.